Rugbytots featured in The Times
The Times interviewed Max Webb, founder and managing director of Rugbytots.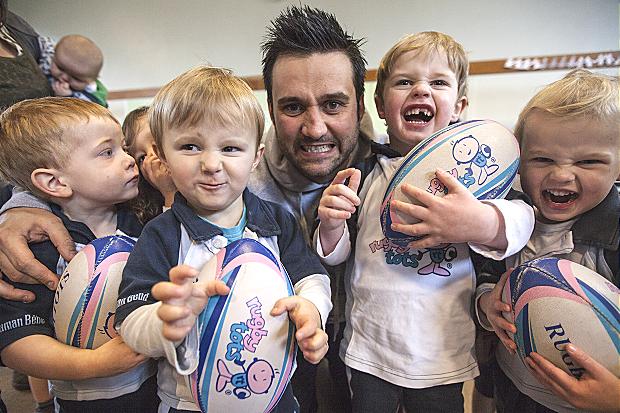 While England's leading rugby players gear up for this year's Rugby World Cup, the man behind the world's biggest pre-school rugby play programme reckons that one day some of his charges could follow in their footsteps.
Max Webb, founder and managing director of the Surrey-based Rugbytots, said: "We are already getting feedback from parents about kids at under-10s and under-11s who are being selected to represent their counties, so why couldn't one or two appear in a Rugby World Cup? I genuinely believe it will happen."
Mind you, at the present rate of expansion, the first former Rugbytot to pull on an international jersey could come just as easily from Ireland, France, New Zealand or any one of the rugby-playing countries where Mr Webb is establishing the franchise.
In the year to April, he expects group turnover, including franchisees' revenues, to hit about £5 million, but the rapid rate of overseas expansion could push that figure to between £6 million and £7 million over the following 12 months, of which Rugbytots' share will be about 40 per cent.
All of which is a far cry from 2006, when Mr Webb, who at the time was running his own telecoms company, was playing in the park with his three sons — all aged under three — and a few other dads and wondered why there was no rugby equivalent of established football programmes, such as SoccerTots and Little Kickers.
"Our kids could do football, karate, cooking and all sorts of other things, but there was no rugby for them to play," he said. "I decided there and then I was going to start something in the park with friends. Within three or four weeks we had twenty-five kids. Once I realised we'd cottoned on to a unique concept, I threw myself into it."
Mr Webb spent the first year or so developing the website and the brand. A move into franchising came by chance when he got a phone call from somebody keen to set up a similar concept in Scotland. "Slowly but surely it became clear my other business was no longer my future. It was just paying for things until Rugbytots was big enough to become my whole focus."
Since selling Vantage Communications, a reseller of fixed-line and data communications with a turnover of £1.2 million, to Peach Telecom, his new business has "just snowballed". In Britain, where it operates a mixture of directly run and franchised classes, its 500 coaches hold about 2,000 sessions a week for 20,000 children. The classes, which cost between £6 and £8 per session, per child, are designed to develop physical, psychological and social attributes, as well as gently encouraging rugby-specific skills, such as running with the ball, kicking and catching. There is a one-off registration fee for which the boys and girls get a Rugbytots shirt and shorts.
Overseas, the company's franchisees run classes for another 10,000 children in 16 countries, including Spain, South Africa, Australia, Argentina and Sweden, with talks over a franchise in Dubai close to fruition and more in the pipeline. To cater for such rapid growth, Mr Webb and his business partner David Hughan are spending about £70,000 on a revamp of the company's website.
Meanwhile, Mr Webb is gearing up for the Rugby World Cup by training for a 300-mile Rugbytots World Cup bike ride from the Millennium Stadium in Cardiff to Twickenham, involving the former England captain Phil Vickery, in aid of the rugby kids' charity Wooden Spoon. The Rugbytots boss is hoping that the Rugby World Cup will provide a further leg-up not only to his business but to the prospects of unearthing the next Jonny Wilkinson among his youthful charges. "It'll be huge for the sport and I'm sure it'll encourage loads more kids to start playing."
---
Find and book a Rugbytots class near you

Plan a party that kicks others into touch
More about parties

Visit the Rugbytots online shop
Shop online